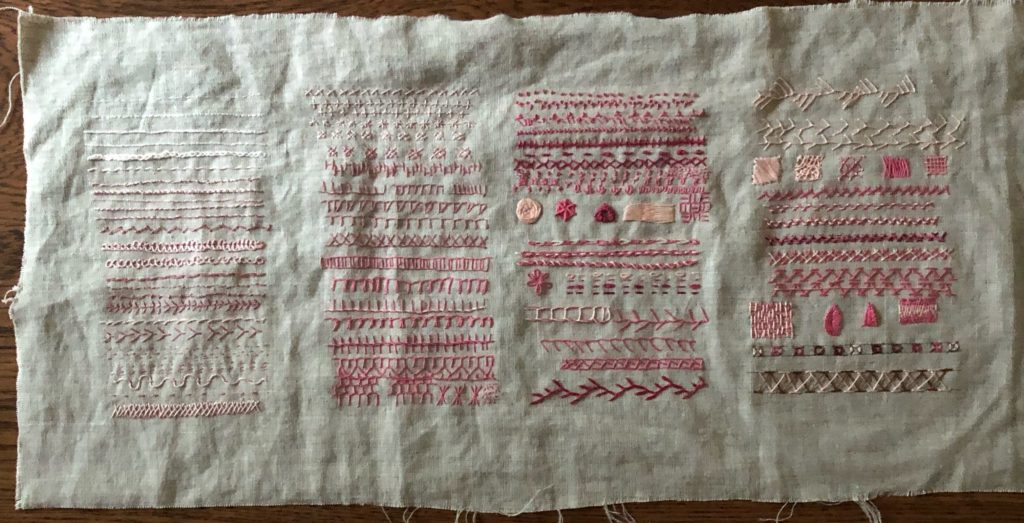 My last post in March 2020 appears to be a strange artifact from the time before we really knew. I hope you've stayed healthy, that the trauma from the last two years has been minimal.
As always, one thing that keeps my mental health strong is attending to a project. My most recent project, started on 23 September, 2021, is an embroidery sampler. I decided to take the last 100 days of the year to explore embroidery. I've been embroidering for a long, long time, but I default to the same ol' stitches and wanted some new faves.
You can look through the entire 100 days on Insta. I've had a few requests for the resources I used, so here's a list:
Mary Corbet's NeedlenThread: Mary has created a ton of excellent videos.
The Embroidery Stitch Lexicon by Pumora: I printed out a copy, and I found it useful for understanding different families of stitches.
The Stitches of Creative Embroidery by Jacqueline Enthoven: an oldie and a goodie!
Embroidery Stitch Bible by Betty Barnden: I borrowed this from my library and may get a copy for my fiber arts bookshelf (let's be honest: shelves!)
Royal School of Needlework: you may get lost for days on this site. Excellent videos in their Stitch Bank.
If you're new to embroidery, I highly recommend taking a class. Rebecca Ringquist's classes on CreativeBug are terrific, and if you can take a live class with Cal Patch, I know you'll get lots of new skills! I've taught embroidery at my LYS, in private lessons, and for a local young woman's group. It's always a blast to get folx excited about this low-cost, easy-entry skill.